HAWKEYE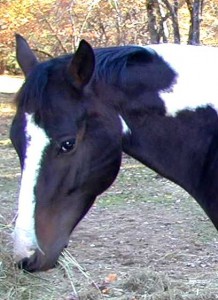 Hawkeye is a transfer from another rescue that had to close due to loosing the lease on the property where their rescue operation was located. He has been our "baby sitter" horse because he is so easy going that he gets along with any new horse and becomes their buddy. He is also so gentle that the youngest of children can ride him.
We did find a home for him at one point, but (through no fault of the people caring for him) he suffered a broken bone in his foot that could not be repaired and he came back to us to see if he could recover on his own. Unfortunately, he still has a slight lameness on that foot, not severe, but enough to render him unrideable.
 Shannon Robinson, who is a member of the Whisper Ranch family,  first fostered him, then fell in love with Hawkeye and has adopted him! Hawkeye now has a forever home! CONGRATULATIONS and thank you Shannon!!
---
---
---
COLE, GAMBIT, BISHOP
These three little guys were among the first to come to Whisper Ranch when it opened. Cole and Gambit first, Bishop a bit later (read Bishop's story). All three have been the primary outreach ambassadors, visiting nursing homes and children's programs.
Now all three have been adopted together by a wonderful group of women who run a charitable organization of their own: For The Love Of A Horse where Cole, Gambit and Bishop will continue their community outreach work, sharing the love!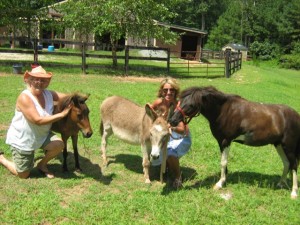 Congratulations and Thank You, Ladies!
---
---
---
MILAGRO & CASEY
Milagro was a Wild Mustang Pony on the range in New Mexico. He broke his elbow and was rescued before predators could get to him. He was transferred to Whisper Ranch to finish hie rehabilitation. Milagro has a personality a mile wide and never fails to entertain everyone he meets!
Casey was "rode hard and put up wet", so to speak. He went through months of Equine Massage Therapy here at Whisper Ranch and was given more than a year off from any riding.  He is another "big personality."  Casey was often seen *strumming* the bungee gate in his area. He keeps everyone laughing.
Both of these guys have gone on to do great things!
They are at Reins of Life in Martin GA working with troubled kids in their wonderful program. They are favorites of both staff and residents.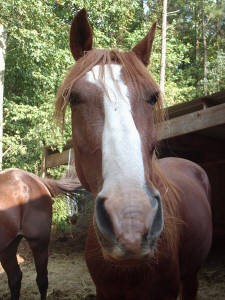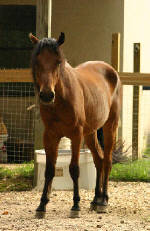 ---
---
---
BEN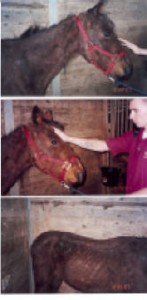 Ben was impounded by Hall County Animal Control in Gainesville, Georgia. He was starved, abused, & turned loose in a neighborhood. He has multiple scars on his body, especially his legs. Ben's right hind fetlock suffered a severe break at some point and was left untreated. He has significant bone mineralization around that joint to compensate. Amazingly, he is moving fine on that leg. We are unsure whether Ben will be ridable with his leg like this, but so far he has been sound on that leg.
Ben is still nervous around people. He seems to want to trust; it is just going to take time and love. He is more willing to trust children and has made friends with a 9 year old boy who does volunteer work at the Ranch.
Ben has been adopted to a loving family in Buford GA!!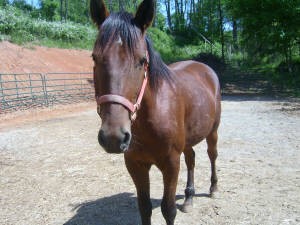 ---
---
---
MIA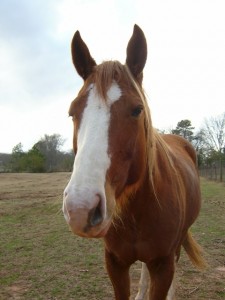 Mia endured severe, bone shifting training while her young body was still developing. Her front left hoof is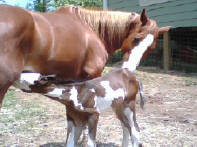 irreparably malformed and she was BRED in this condition – as many lame mares are – forcing her to carry 150lbs of baby on her painful legs. In spite of all this, she is the sweetest mare we have ever met.
Her owner died of cancer and made no arrangements for her animals and her family was going to euthanize Mia rather than "waste money" caring for her.
 DO NOT ride horses before they mature which is a minimum of age 4!
 DO NOT breed lame mares…it is cruel!
 DO NOT forget your animals in your will!
Mia was adopted by Jennifer Bailey in Alpharetta GA. Congratulations Jennifer!
---
---
---
COOKIE
Cookie came to Whisper Ranch as a critical starvation case.  She was owned by a man who was later arrested in Gwinette County for the neglect of dozens of horses.  Shockingly, she was bred in this condition.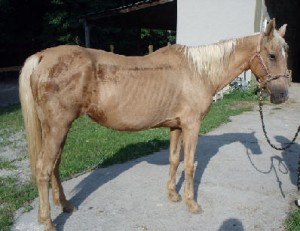 She did manage to regain some weight before the arrival of her foal.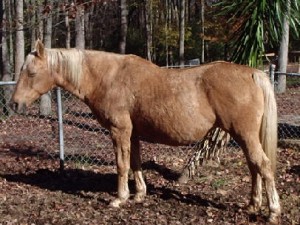 We were thrilled and amazed that both she and her foal, named Riley, survived.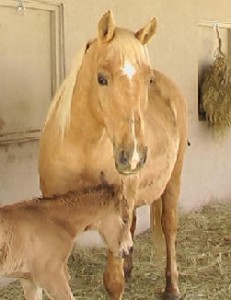 Cookie went on to be adopted (and spoiled rotten) by Meghan and Narda Meeks.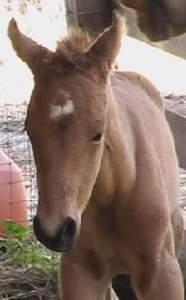 Riley grew up and went on to work with Melanie Dallas in Big Canoe, GA in her therapeutic EPONA program.
Visit Riley's page here
---
---
---
Save
Save
Save
Save
Save
Save