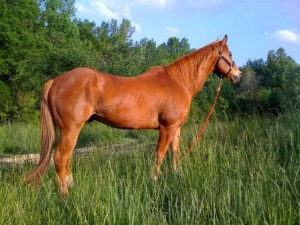 Joe's Johnny
August 2010
Johnny's owners loved him very much and sought placement for him due to their unexpected circumstances.
Here is the letter from his "mom" when she reached out to us:
Dear Ms Edwards,
It is with great sadness I write this email to you. I desperately  need help in homing my beloved appendix, an amazing and kind gelding, 18 years old.My family and I have been blessed with our gentle giant for the past three years and I'm so heartbroken at even the thought of having to rehome him.My husband and I are in the US on visas, we had hoped to be approved for green cards by now but have just been denied due to the current economy. We must leave the country and return to the UK by August 30th
or face deportation.I have been desperately trying to have Johnnie returned to the UK with us but it is financially out of our league. I have tried to home him locally but all avenues are closed and I'm concerned that he will fall into the wrong hands if I offer a free horse, or he go to a home where I cannot check up on him. His service to my family is such that I owe him at least a secure, stable and loving environment as he his used to.I remembered that a friend from my boarding facility, Helen Cameron, had often spoken of Whisper Ranch as she volunteered there and adopted their horse, Irish, from your organization.I was wondering if at all possible, there would be a space for him at Whisper Ranch? I understand that you approve homes for adopted horses and perform rigorous background checks on potential owners, sadly I have no time or means to be able to do this for him.I also believe that he would be a valuable asset to your organisation, Johnnie adores children and is calm and reassuring. I have never fallen and neither have my children. He stands beautiful for them, is gentle and perfect for beginners. Johnnie came to me from an 8 year old girl who loved him like I do. He stands at 16.1 HH and looks more thoroughbred than quarterhorse and has papers.I would love for him to continue to be around children, I would happily give him away to the right person, unfortunately I have to leave in two weeks.Please let me know if you can help us, I can send you pictures to show you what sweet gentleman he really is. He also likes dogs and cats and will happily graze away by their sides. I'm truly brokenhearted by having to leave him and wish to do the best for him that I can before I have to depart.
You can read how much his family loved him but were unable to house him at the time. We put out a call to our wonderful network of horse folks, some of whom are able to foster for us. We quickly received a response from one of our best – Brenda Randall at Lauraleigh Farms. Brenda's program is perfect for Johnny as she works with many children, teaching them to be good stewards of horses and is an active participant in the equestrian portion of the Special Olympics.

Here is Johnny when he arrived at Lauraleigh Farms Sept. 2010 with his new friend!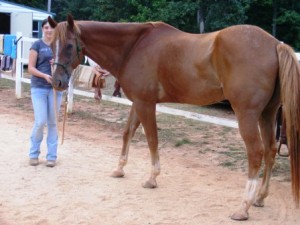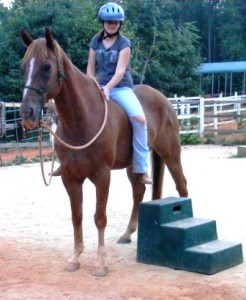 ---
Update: Sept 15, 2010
Johnny is settling in nicely. His feet were in pretty rough shape, but he is in good hands both for general care and hoof care so we expect he will be doing just fine in no time.
UPDATE July 2011 – GREAT NEWS!!!
Brenda has made a profound heart and spirit connection with Johnny and has adopted him! He now has a forever home where he will always be loved and well cared for! CONGRATULATIONS Brenda !!!!
---
UPDATE: 2014
The economy has taken a devastating toll on many – horse owners in particular due to the high cost of caring for them. Because of that, Johnny has returned to us. Once a Whisper Ranch horse, always a Whisper Ranch horse – our adoption contract specifies that if the adopter can no longer care for the animal, they must return them to us. We are sad about Johnny only because we know Brenda very well and would never have to worry whether Johnny or any horse in her care, was getting the best.
Now its up to us to provide for Johnny and the economy has hit us just as hard. He has ongoing joint issues in his legs that are manifesting as he ages, related his early years of hard riding. We are providing a hyaluronic acid joint supplement that costs $85 per month, as well as herbs to address inflammation and stimulate his immune system.
---
Update 2015
Johnny is happy and doing well.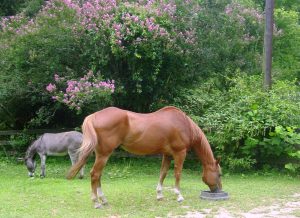 ---
Update 2016
Having a good time pruning trees 😉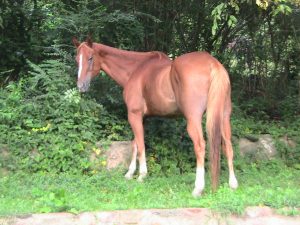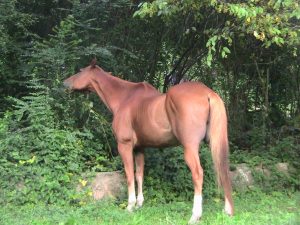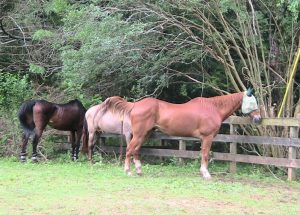 ---
$200 a month is the minimum needed to provide for Johnny. If you can help us provide the care he needs,  any amount would be greatly appreciated.
If you would like to contribute to Johnny, either a one time donation (of any amount) or monthly sponsorship (of any amount), click the button below…
Save
Save
Save
Save
Save
Save
Save
Save
Save
Save
Save
Save