Welcome!
Thank you for visiting us. We are just one of many rescue organization across the country and the world, some very large, some very small and all sizes in between. Each of us try to make a difference for at least some of the millions of suffering animals out there.
Most of the horses we take in are so old or so damaged (or both!) that they cannot be ridden and have nowhere else to go. We rehabilitate those that we can and find forever homes for them. The rest find permanent sanctuary with us.  We believe that every horse deserves to live its final years feeling and loved.
Whisper Ranch Certificate of Existence
---
Currently we are a network of locations with the animals hosted at our various homes that could best be described as a type of foster network. Unfortunately we don't yet have one big location to house and care for all the animals together as do many rescues. In some ways, that is a disadvantage:
The animals are not all in one place.
No single location for group volunteer efforts.
Limits some community activities.
but in some ways it is an advantage:
Animals can be hosted with an environment that best suits their temperament and needs.
Animals are hosted by the person or family with the best skill set to address specific mental or physical issues.
Host families are pledged to provide for the animal whether or not there are any donations.
If one of us "goes down", the horse they host, has somewhere trusted to go immediately.
If you wish to donate money for a specific purpose,  just let us know how to designate the funds. If you wish to help support a specific animal let us know and it will go directly to the person hosting that animal.
PROFESSIONAL HOOF CARE and REHABILITATION:

Cindy "Hawk" Sullivan has been providing rehabilitative health care as well as routine hoof care to Whisper Ranch equines since its founding. She has been a professional hoof care provider for 20 years. She is also the co-founder of the Equine Sciences Academy and owner of Tribe Equus, which has been a gateway for information since 2000.

Cindy with Whisper Ranch resident, Pumpkin

Cindy handles intake of new animals, assesses their individual needs and personalities, then recommends the best location for that animal.  She hosts the oldest and most damaged of our rescues. Her farm is considered the hub of our network.

FUNDRAISING:

In addition to being on the Board of Directors for our local animal shelter.  Jennifer Marcellino is a long time friend of Whisper Ranch.  She is "all in" to help us and any animals in need.

Jen and Big Dan

EQUIPMENT MAINTENANCE & PROCUREMENT:

Roland and Jill Ranger help maintain our equipment as well as being our "go to" folks for any needs beyond our budget. When we need something done that we cannot do ourselves, we call them.

Jill & Rowland with Sammy & Little Boy

  VETERINARY SERVICE

Jarod Eddy, DVM is our much loved veterinarian. He is kind and generous, always making time for us when we need him. One of the things we love most about Dr. Eddy is his desire to constantly learn and willingness to not only listen sincerely to the humans who know the horses best, but also his willingness to think outside the box and explore alternative modalities.

Jarod Eddy, DVM
ALL PURPOSE SUPER VOLUNTEERS
In addition to being one of our host families, Scott and Niki Garrett are multipurpose, multitasking, "can do just about anything" kind of folks. Scott fixes just about anything…from putting a new floor in the horse trailer, to cutting trees, to giving comfort to an animal…if it needs doing, he can do it.
Niki is both dedicated and skilled…she can do anything that needs doing – from routine chores to making the healing salve we sell at the online store and providing therapy to animals in pain. When a problem needs to be solved…she will find a way. All the animals love them both…and so do we!  THANK YOU Scott and Niki!!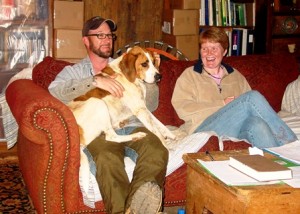 Save
Save
Save
Save
Save
Save
Save
Save
Save
Save
Save
Save
Save
Save
Save
Save